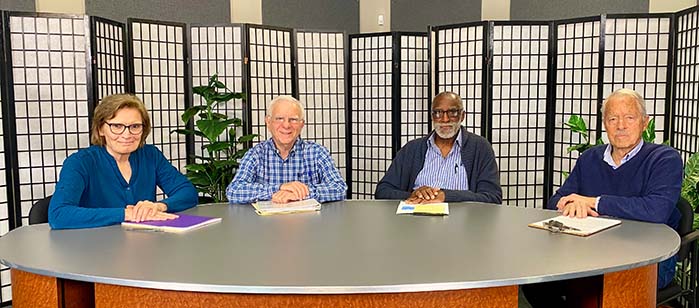 STAY IN THE LOOP
Join our mailing list!
Stay updated on news, events & more:
SHOW DESCRIPTIONS
Marble Valley Players - Macbeth
Channel 15 • Next Airing: Tues 9:00pm, Thursday 9:30pm
Marble Valley Players present William Shakespeare's dark tragedy, Macbeth, directed by Jenna Carlson at West Rutland Town Hall Theatre.
Mass, The
Channel 15 • Next Airing: Sun 11:00am & 5:00pm
Presented locally by Joe Tilden. The weekly Mass produced by the Roman Catholic Diocese of Burlington.
Messiah - Pentangle Opera
Channel 15 • Next Airing: Thurs 5:00pm, Friday 1:30pm
Produced by Woodstock Community Television (2017). Messiah, an oratorio by George Frederic Handel. Performance at Our Lady of the Snows, Roman Catholic Church
Mill River School Board - Clarendon
Channel 20 • Next Airing: Fri 7:00pm, Sat 4:00pm, Sun 9:00am, Tues 3:00pm
Meets on the 1st & 3rd Wednesday of each month.