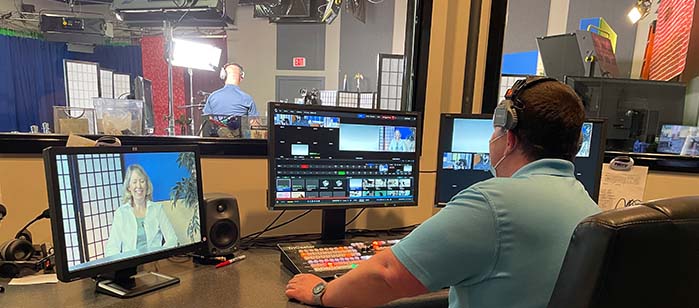 STAY IN THE LOOP
Join our mailing list above!
VOLUNTEER INDEPENDENT PRODUCERS
Don't just view it, do it!
Start your own TV show on PEGTV.
It's that easy!
Get in touch! 802.747.0151 or pegtv@pegtv.com or jboughton@pegtv.com
Step 1: Have an idea for a show? Call Us!
We will sit down and discuss your idea, then guide you through the next steps involved in producing your PEGTV show. You are also welcome to tour our facility, see the equipment and meet our staff.
Step 2: Enroll in our free video production workshop*
If you would like to do an out-of-studio shoot (remote), then sign up for our short VIP (Volunteer Independent Producer) workshop. We offer free training to individuals 18 years and older. Induviduals under 18 will need to be accompanied by an adult. The workshop will teach you the basics of how to use all the equipment, including tips on how to get quality video and audio. At this time, we will review PEGTV's guidelines and go over a few simple rules. After completing the workshop, you will then become an official PEGTV VIP! This will enable you to utilize PEGTV's equipment for the purpose of producing your program. If you choose do an in-studio shoot, the workshop is not required.
*Workshops are held by appointment only. The workshop lasts approximately 1 hour. We require pre-registration as space is limited. Workshops are only available to Rutland County residents. Workshop graduates have full access to PEGTV's field production equipment including cameras, lights and microphones. All programming produced for PEGTV channels 1075, 1095 & 1085 must be strictly NON-COMMERCIAL.
CALL 802.747.0151 or EMAIL jboughton@pegtv.com TO SIGN UP!
Step 3: Check out the equipment or schedule a studio shoot
Once certified for remote production, you are able to check out our state-of-the-art equipment for FREE to "film" a community event/sport or simply gather footage for your show. If you decide to produce a studio program, our staff will act as your own personal production crew. All you will need to do is schedule a time with a staff member. Please notify your guests if necessary. Be ready to begin shooting within 10-15 minutes of your scheduled appointment time.
Step 4: Editing
In-studio shoots are directed technically by our staff with your guidance, so usually no editing is required. If you have in-camera footage from a remote shoot, PEGTV has two edit bays available for you to use to enhance your footage if you choose to do so. PEGTV staff will teach you basic editing techniques, allowing you to add finishing touches to your production.
Step 5: Your show is televised (cablecast)

Your show will air on one of our three cable channels depending on its content. Your "voice" is broadcast to 20,000+ residents of Rutland County and online through our website. Every VIP gets one free copy of their show for their personal archive.
What kind of show should I create?
PEGTV offers choices to help you promote your message. There are no set rules on what form your program can take; your imagination is the limit, as long as it meets our guidelines. Our professional and friendly staff is ready to assist you along the way. You can consider, but are not limited to any of the following categories:
• Special meeting or event
• Talk show
• Sporting Event
• Cooking Show
• Entertainment
• Political Profiles/Announcement
TELEVISED EVENT: Cover a meeting or event for those who cannot attend. Use your own video camera or sign out one of ours you've been trained on. Once you've taped the meeting, the show is done.
TALK SHOW: Recorded in the studio featuring a host and one or more guests. Once the show is recorded, it is ready for air. We will provide airtime 30 minutes, 3 times a week for a month.
SPORTS: Volunteer to sportscast your child's game and create a permanent memory for your entire family for years to come. Footage of your student's ability can be a useful tool when applying for a college scholarship.
Cooking Show: Bring a favorite recipe or share a signature dish with our viewers. PEGTV has a state-of-the-art kitchen studio for you to use. After a short kitchen orientation, you can simply call the station to schedule your show.
Political Profiles/Announcements: If you are running for a political office, you can make arrangements with PEGTV to announce your candidacy or to tape a detailed account of your platform. PEGTV also produces many political forums and debates during election season to which you might be a part of. As a candidate, you are also welcome to produce your own program.