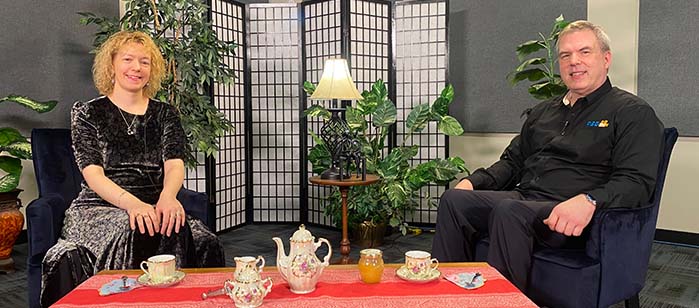 STAY IN THE LOOP
Join our mailing list above!
Public 1075


Channel 1075 is PEGTV's Public Channel. Channel 15's content is basically eveything that does not fall under the educational or government category. Public programming includes, but is not limited to, local sports, health services, seasonal parades, talk shows, church services, meetings and events, cooking shows, and talent shows. Channel 1075 also features a Community Bulletin Board which showcases local non-profit events. If you would like to submit a non- profit community to promote an event, please email cmccormack@pegtv.com or drop a flyer off at our studio.
Channel 1075 is managed by Program Coordinator Christopher McCormack. Chris is a life-long Rutlander who graduated with a BA in Communications from Castleton University. Mr. McCormack spent 15 years as Channel 1085's Coordinator before making the switch to Channel 1075 in 2015. Chris has a long history in local radio broadcasting including regional stations, WHWB, WVNR and WJJR. During his spare time Chris enjoys bowling, basketball, jogging and hiking.
SCHEDULE


9:00 AM Strong Beautiful You with Amy Lewis - June 2020
9:31 AM Castleton Community Center - Better Balance
10:02 AM Homecare Connection - COVID - June 2020
11:18 AM Bat_Vermont Fish & Wildlife
12:00 PM Rain Gardens
1:00 PM Rutland Wallingford Catholic Community
6:00 PM Rutland Wallingford Catholic Community

9:30 AM Castleton Community Center
12:30 PM Lifelines
1:00 PM Rutland Wallingford Catholic Community
2:00 PM Homecare Connection - COVID - June 2020
3:30 PM Vermont Master Anglers
5:24 PM Bat_Vermont Fish & Wildlife
6:00 PM Rutland Wallingford Catholic Community

9:30 AM Castleton Community Center - Better Balance
1:00 PM Rutland Wallingford Catholic Community
2:00 PM Strong Beautiful You with Amy Lewis - June 2020
5:00 PM Lifelines
6:00 PM Rutland Wallingford Catholic Community
7:29 PM Homecare Connection - COVID - June 2020

5:00 AM Rhema Word
9:30 AM Castleton Community Center
2:00 PM Rutland Wallingford Catholic Community
6:00 PM Rutland Wallingford Catholic Community
7:00 PM Vermont Master Anglers

9:30 AM Castleton Community Center - Better Balance
10:01 AM Vermont Master Anglers
1:00 PM Rutland Wallingford Catholic Community
6:00 PM Rutland Wallingford Catholic Community

5:00 AM ECKANKAR - Keep Trying
7:00 AM Revive Church - Poultney
8:00 AM Calvary Bible Church
9:00 AM First Baptist Church of Fair Haven
10:00 AM Furnace Brook Wesleyan Church
11:00 AM Catholic TV Mass
11:31 AM Grace Church Worship Service
12:30 PM Revive Church - Poultney
1:30 PM Rutland Wallingford Catholic Community
3:30 PM All Saints' Anglican Church
5:00 PM Catholic TV Mass
6:00 PM First Baptist Church of Fair Haven
7:00 PM Furnace Brook Wesleyan Church
8:00 PM Calvary Bible Church
9:00 PM All Saints' Anglican Church
10:00 PM ECKANKAR - Keep Trying
10:28 PM Power Outages Prep
10:30 PM Grace Church Worship Service
11:09 PM Rhema Word

9:00 AM Strong Beautiful You with Amy Lewis - June 2020
9:31 AM Castleton Community Center - Better Balance
10:02 AM Homecare Connection - COVID - June 2020
11:18 AM Bat_Vermont Fish & Wildlife
12:00 PM Rain Gardens
1:00 PM Rutland Wallingford Catholic Community
6:00 PM Rutland Wallingford Catholic Community

CHANNEL NOTES & INFO
>> Channel 1075 Schedule at a Glance
>> CLICK HERE to See When the Games are on Channel 1075
>> Games Available for Purchase January 2015 to present
>> Games Available for Purchase January 2020 to Present
>> Games Available for Purchase OCT 30, 2010 to DEC 31, 2014
>> PEGTV Channel 1075 Time Slots for Current Programs





LIVE CHANNEL STREAM
Online Schedule:
Saturday, Sunday & Wednesday - CH 1075
Monday & Thursday - CH 1095
Tuesday & Friday - CH 1085