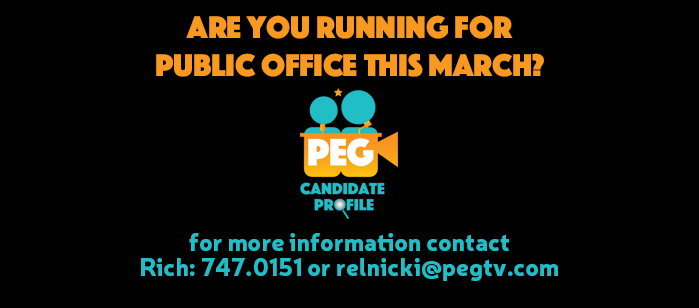 STAY IN THE LOOP
Join our mailing list above!
PEGTV Channel 1085 Presents: Candidates
Political Candidate Profiles On PEGTV
Channel 1095 offers unfiltered platform for Rutland County residents running for office
Rutland, Vermont. Rutland County residents running for political office who would like an unfiltered platform to announce and articulate their position can do so on PEGTV's show "Channel 1085 Presents: Candidates." PEGTV, Rutland County's public access station, will air the show throughout the political season up to voting day on March 3, 2020.
"Channel 1085 Presents" offers candidates two minutes to speak about their platforms in a modern television studio setting with a professional production crew. These profiles are then compiled into a show and aired on PEGTV Channel 1085 as well as uploaded to our video on demand player available on our website and promoted through advertising and social media.
" 'PEGTV Channel 1085 Presents: Candidate Profiles' is a great platform for candidates to articulate their political stance," says Chelsea Tice, PEGTV Channel 1085 Coordinator. "We do not edit or alter content, so candidates can feel confident in their message reaching viewers."
If you would like to schedule studio time to record a profile or get more information please contact Chelsea Tice at (802) 747-0151 or email ctice@pegtv.com.
PEGTV is comprised of Comcast Channels 1075, 1095 and 1085 and VTel channels 163, 164, and 165 and is available throughout Rutland County to all cable subscribers. Streaming programming, hyper-local weather forecasts, and video on demand services are also available online at www.pegtv.com.